Home » Contractors, Education, Improvements
Equipment: M.A.B. Sea Shore Satin Paint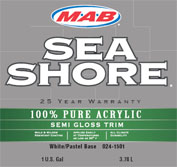 It's been two years since the wooden railings that surround a second floor terrace had been stripped, sanded, resealed and painted and unfortunately, it shows.
The solution — called Mr. Handyman of N.E. Queens for the following project:
Project: Stripping, Re-sealing and Painting Second Floor Terrace Railings
General details:
Scrape existing loose paint off the railings;
Remove any remaining paint (mild soap/water);
Apply supplied primer;
Apply supplied paint;
Remove any resulting debris.
Materials:
Resources and References:
"Before" Project Completion Photos:
"After" Project Completion Photos:
[To Come]